Tainet cooperates with Telecom Operators for the deployment of better fiber optic solution
Taipei City, Taiwan – November 27, 2018 – Taiwan focuses on developing the high-tech industry, actively deploying fiber optic environment. Tainet cooperates with telecom operators to provide the high-quality and stable active optical fiber transmission equipment, recently collocating with the chassis to centralize the multi-channel optical fiber transmission cards as a collecting figuration, which is connected to the remote single equipment to realize the star-shaped or point-to-point networking management function (iEAC Chassis + ENTU (card)+ ENTU (standalone)). According to the transmission distance to select the appropriate SFP fiber module, to provide a wide bandwidth and high-speed transmission. The telecom operators would obtain the most appropriate transmission tool by intelligence customized networking management functions. Moreover, all the relevant products with the demand customized multiple applications provide automatic alarm and complete network management system server, to strengthen the user's requirements about bandwidth and distance, increasing the advantages of centralized operation network management in telecom industry.

Media converter ENTU(Ethernet Network Terminal Unit) 763S/GE is so called Ethernet Access Devices (EAD) or Ethernet Media Data Converter (MDC). It is a manageable type media converter that is inter operable with iEAC-16 chassis. The transmission distance is up to 200km with SFP and support multiple SFP modules. With SFP DDM it is available to detect the status of the SFP. At the customer premise which allows the operator to reach customer over fiber, while still providing a standard Ethernet copper connection, and being part of the operator's network, enables the converter to act as a demarcation point between the operator and the customer.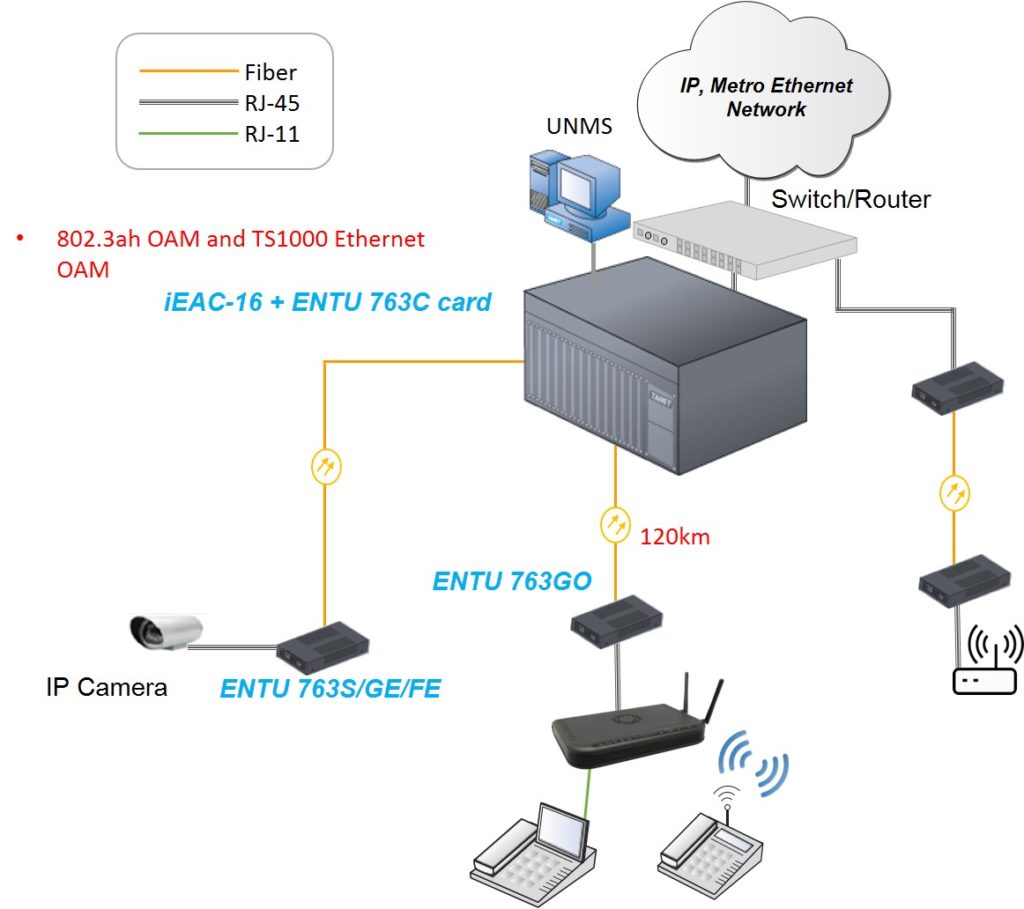 Why choose Tainet?
Tainet Communication System Corp. has been connecting the world since 1990 with data and voice communications products and solutions that allow businesses to be more productive than ever. Our solutions serve the small and medium business, enterprises, government utilities, infrastructures markets and so on. We have been recognized throughout the world for their quality, reliability and innovation. The core of TAINET is comprised of a skilled and experienced engineering team, which enables us to deliver the extended technology solution from Voice communication, legacy TDM modem, multiplexers, to Ethernet-based and fiber access, while still remaining top quality, flexibility, yet cost-efficient products for all customers across a broad spectrum of applications.
Tainet Contact
E-mail: sales@tainet.net
Contact No.: +886 2 2658 3000