Be trapped in the lift? There's no need to panic.
Being trapped in the elevator may be the worst nightmare for many people, especially for those with claustrophobia. When the elevator gets stuck, the passengers tend to act impulsively such as forcing the door to open by strength, kicking the door or attempting to climb out. But the thing is that people sometimes just forget to use the emergency button on the control panel. The standard traditional elevator only supports analog copper wires as its intercom system. With the existing system, even when the maintenance company receives the system alarm first, they can not contact the passenger inside the cab remotely if the passenger fails to press the emergency button.

It really makes lots of differences integrating the 4G LTE VoIP active calling system into elevator intercom. Firstly, when the failure occurs, it allows the staff in duty to comfort the passengers so as to ease passengers' stress. Secondly, the staff will be capable of providing instructions to the passengers to ensure the passengers' safety. Lastly, with the 4G LTE VoIP device, the emergency calls and the collected data from sensors can easily be integrated into one platform, and it's going to make the operating and maintaining way easier.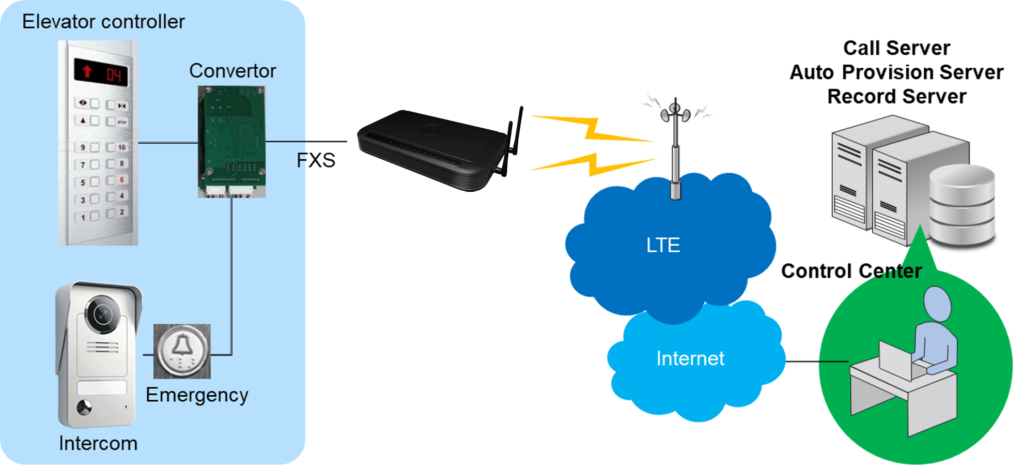 Why choose Tainet?
Tainet Communication System Corp. has been connecting the world since 1990 with data and voice communications products and solutions that allow businesses to be more productive than ever. Our solutions serve the small and medium business, enterprises, government utilities, infrastructures markets and so on. We have been recognized throughout the world for their quality, reliability and innovation. The core of TAINET is comprised of a skilled and experienced engineering team, which enables us to deliver the extended technology solution from Voice communication, legacy TDM modem, multiplexers, to Ethernet-based and fiber access, while still remaining top quality, flexibility, yet cost-efficient products for all customers across a broad spectrum of applications.
Tainet Contact
E-mail: sales@tainet.net
Contact No.: +886 2 2658 3000