The struggle of phone bills – Introducing a cost effective way to manage your household expense
As the user groups of mobile device keep growing, a wireless internet access is becoming necessities. Nowadays, almost every household has their own Wi-Fi router in order to stay connect with the world of internet. But have you ever aware that there's an IAD (Integrated Access Device) not only provides Wi-Fi services, but also comes with professional VoIP function?
VoIP, in simple terms, it's a telephony service over the internet. Basically VoIP gateway packages the analog signals from your phone into internet protocol then transmit it over Internet. With this additional process, it will bypass the PSTN (Public Switched Telephone Network) to achieve toll saving. There're some VoIP tech-related products existing, but the key factor to distinguish the quality of the product would be – the capability of preserving the real voice with no delay. By supporting features such as QoS and echo cancellation, the quality of the call can perform at higher standard consistently.
Many firms had already set up VoIP system to lower the cost. According to statistics; small businesses that switch to VoIP reduce the cost locally by up to 40%, and save up to 90% on international calls. This function could also apply on household expense. With VoIP, it could potentially save up to 50% of domestic phone bills.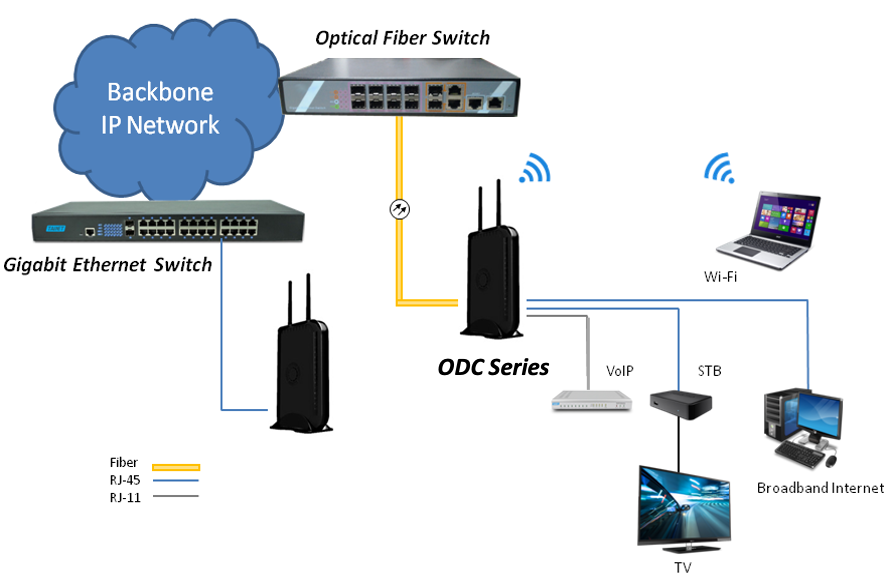 Tainet VoIP IAD ODC series is a device integrading VoIP, Wi-Fi router, Ethernet assess and IPTV. It's the perfect fit to FTTX users for its combo WAN, which is selectable for using Ethernet cable or fiber optic. It supports industry standard SIP protocol, four Ethernet LAN ports and dual-band concurrent wireless connection for internet access. Last but not least, it has PSTN lifeline as precaution for network failure, users can still make calls through PSTN during the emergency.
As the ultimate replacement of the traditional analog phone system, VoIP gateway has to ensure the communication to be at lease stable and reliable. To adapt the rapid change of the modern society, a concise all-in-one device is the perfect solution for residential subscribers.
Why choose Tainet?
Tainet Communication System Corp. has been connecting the world since 1990 with data and voice communications products and solutions that allow businesses to be more productive than ever. Our solutions serve the small and medium business, enterprises, government utilities, infrastructures markets and so on. We have been recognized throughout the world for their quality, reliability and innovation. The core of TAINET is comprised of a skilled and experienced engineering team, which enables us to deliver the extended technology solution from Voice communication, legacy TDM modem, multiplexers, to Ethernet-based and fiber access, while still remaining top quality, flexibility, yet cost-efficient products for all customers across a broad spectrum of applications.
Tainet Contact
E-mail: sales@tainet.net
Contact No.: +886 2 2658 3000