Tainet release New Product Dual Port Fiber Ethernet Converter – ENTU 773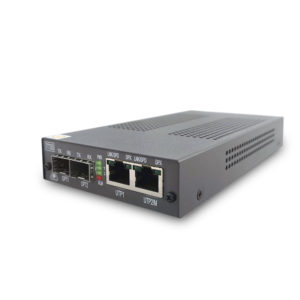 TAINET Communication System is announcing new media converter designed for an advanced capability. Featuring dual ethernet port and SFP port. It is ideal for Community (police/fire/education), utility factory and business Ethernet services, etc.
TAINET's Ethernet Network Terminal Unit Series allows the operator to separate each user's traffic and offer services such as inter-office LAN connectivity, Internet access and virtual local area networks (VLAN). This approach extends the service over fiber, facilitating management of differentiated services up to the customer premises while ensuring service level agreement (SLA) enforcement.
Solution 1
A long distance for VoIP communication or surveillance could cost a lot for deployment. Tainet's new dual port media converter is able to support switch mode, which enable the converter to build a linear network application easily to achieve the goal.
ENTU 773 series is so called Ethernet Media Data Converter (MDC), It can convert 10/100/1000 BASE-TX to 1000BASE-X via optical fiber cable to extend transmission distance. At the customer premise which allows the operator to reach customer over fiber, while still providing a standard Ethernet copper connection, and being part of the operator's network, enables the converter to act as a demarcation point between the operator and the customer. Ethernet in the Local Loop reduces carrier expenses, since Ethernet ports are far less expensive than other options, TAINET's cost-effective, remotely-managed ENTU series is an ideal fiber solution for every carrier's Local Loop because it provides access regardless of the backbone technology, and cost saving which can be passed on by the carrier to consumers.
Solution 2
Security is always a great issue that customer consider. If any of the connection fail may cause great damage. Tainet's dual port media converter supports redundant power which is the fiber back-up mode. Even one of the fiber connections fail, it still operates smoothly.
Why choose Tainet?
Tainet Communication System Corp. has been connecting the world since 1990 with data and voice communications products and solutions that allow businesses to be more productive than ever. Our solutions serve the small and medium business, enterprises, government utilities, infrastructures markets and so on. We have been recognized throughout the world for their quality, reliability and innovation. The core of TAINET is comprised of a skilled and experienced engineering team, which enables us to deliver the extended technology solution from Voice communication, legacy TDM modem, multiplexers, to Ethernet-based and fiber access, while still remaining top quality, flexibility, yet cost-efficient products for all customers across a broad spectrum of applications.
Tainet Contact
E-mail: sales@tainet.net
Contact No.: +886 2 2658 3000