Tainet release New Product 10Gb Fiber Ethernet Switch/Media Converter – ENTU 783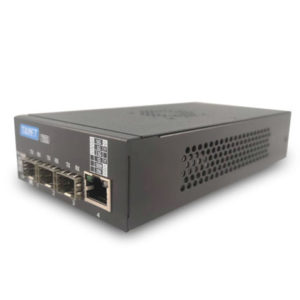 TAINET Communication System is announcing new 10G Fiber Switch designed for an advanced capability. Featuring triple 10G SFP+ ports and one 10G Ethernet port, it is ideal solution for 10G P2P, Linear link and Ring protection applications.
ENTU 783 series is so called 10G fiber optical switch, or Ethernet Media Data Converter (MDC). The interface of ENTU 783 includes one 10G Ethernet port and three Optical SFP+ ports. With the physical quick setting dip switch on the back panel, the user can easily select from MDC mode to the Ethernet Switch mode. In order to interoperate with different line rates, it supports flow control which can send pause frames dynamically to control the transmitting rate so it won't be overwhelmed with data packets.
At the customer premise, ENTU 783 provides link protection, bandwidth combination and loop prevention. Deploying at the operators' network, SNMP and RMON feature allows the operators to monitor remotely. As the functions like Q-in-Q, it can separate each user's traffic while preserving the VLAN tag from the data. Overall, it is an ideal device to act as a demarcation point between the operators and the customers.
This figure shows the Ring Protection application for ENTU 783 10G optical fiber switch. Ring Protection is designed to have redundant path transmitting data. As the figure shows, ENTU 783 will be a perfect solution for Telecom providers to construct the network of 5G base stations and 5G cell sites. Its four 10G interface enable ENTU connecting other device while forming a ring protection to prevent total network failure.